Year 3 - Mrs Webster & Mrs Sainsbury
Welcome to our class webpage - Our Teaching Assistants this year are Mrs Keel and Miss Kuiper
Welcome to Term 6!
To continue making your learning fun at home
we will carry on with weekly themes.
This week our theme continues with The UK versus Australia
You might want to create your own term 6 topic folder or book of work. Maybe, take the theme further and create artwork, your own experiments, extra pieces of writing (poetry, stories).
If you complete the tasks or any extra work, please email pictures through to our new class email shown below. These can be shared on the school Facebook page or our class webpage.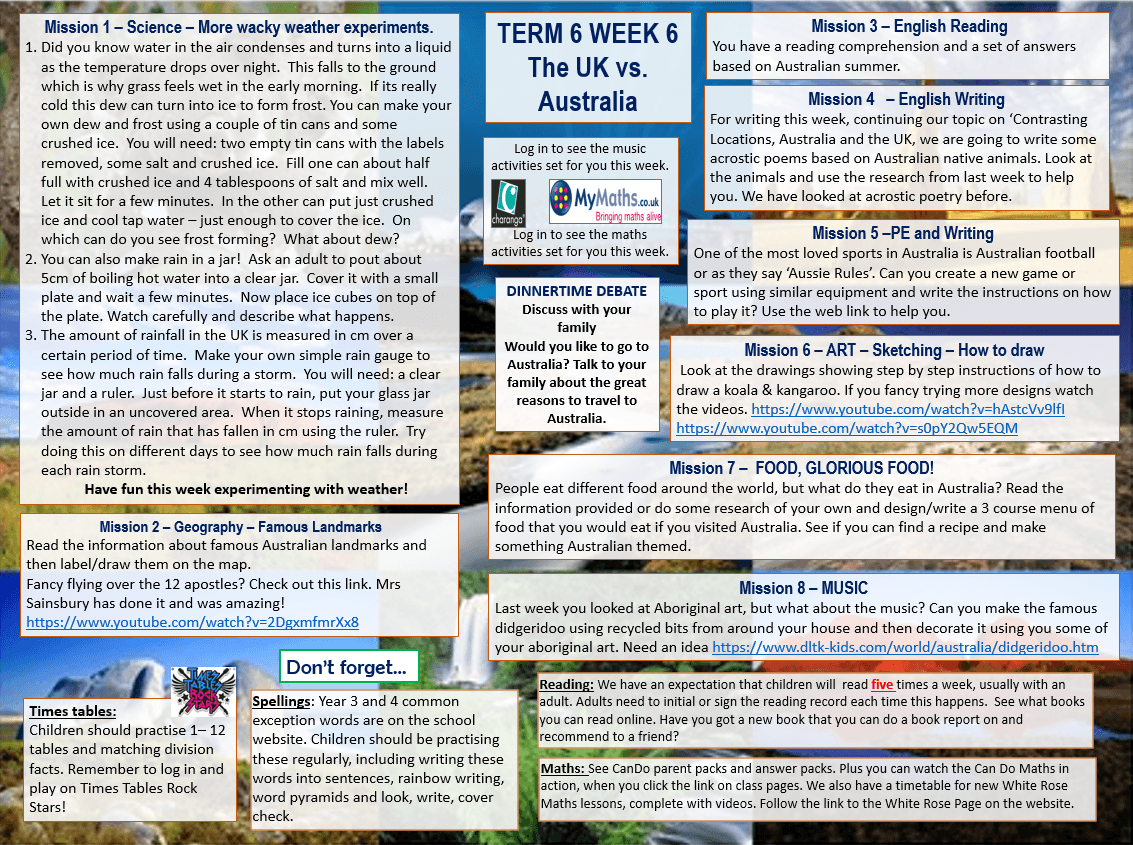 b
Resources you will need for week 6
Mission 2 Geography - Famous Australian Landmarks
Mission 3 - Reading Comprehension
Mission 5 - Art - Directed drawing
n
READING
There are comprehension texts and EBOOKS, complete with
resources on the English page which can be found by clicking on the
curriculum link or click here for year 3.
MATHS
To plan your maths so that you have daily lessons,
we have created a timetable for you.
INTRODUCING WHITE ROSE MATHS!
Click here to White Rose Year 3
CanDo parent pack for home use. This pack will allow children to
revise what we have already been learning this year.
For access to the most recent maths,
TERM 6 WEEK 6 6th July Click here for year 3
TERM 6 WEEK 5 29th JUNE Click here for year 3n
TERM 6 WEEK 4 22nd JUNE Click Here for year 3
TERM 6 WEEK 3 15th June Click here for year 3.
TERM 6 WEEK 2 8th June Click here for year 3.
JUNE 1st click here for year 3.
MAY Pack 3 (18/05/2020) click here for year 3.
May Pack 2 (11/05/2020) click here for year 3
For access to May Pack 1 (04/05/2020)click here for year 3.
For access to the pack for April part 2 click here for year 3.
For access to the pack for April part 1 click here for year 3.
For access to the pack from March click here for year 3.
This link will show you CanDo Maths in action
https://www.youtube.com/channel/UCtamY3wAjj85YpH5Zv4CTBQ/videos
These answer booklets are here to help you as well.
MAY Pack 3 (18/05/2020) Year 3
In addition to the parent packs that we have provided from CanDo maths – which we would like the children to work on each day, The White Rose Maths Team has prepared a maths lesson for each day of the week. They will be adding five more each week for the next few weeks. These lessons also cover mathematic subject areas that are relevant to the children. Every lesson comes with a short video showing you clearly and simply how to help your child to complete the activity successfully. We suggest you start at week 1 day 1. You can find all the resources you need at https://whiterosemaths.com/homelearning/
PREVIOUS LEARNING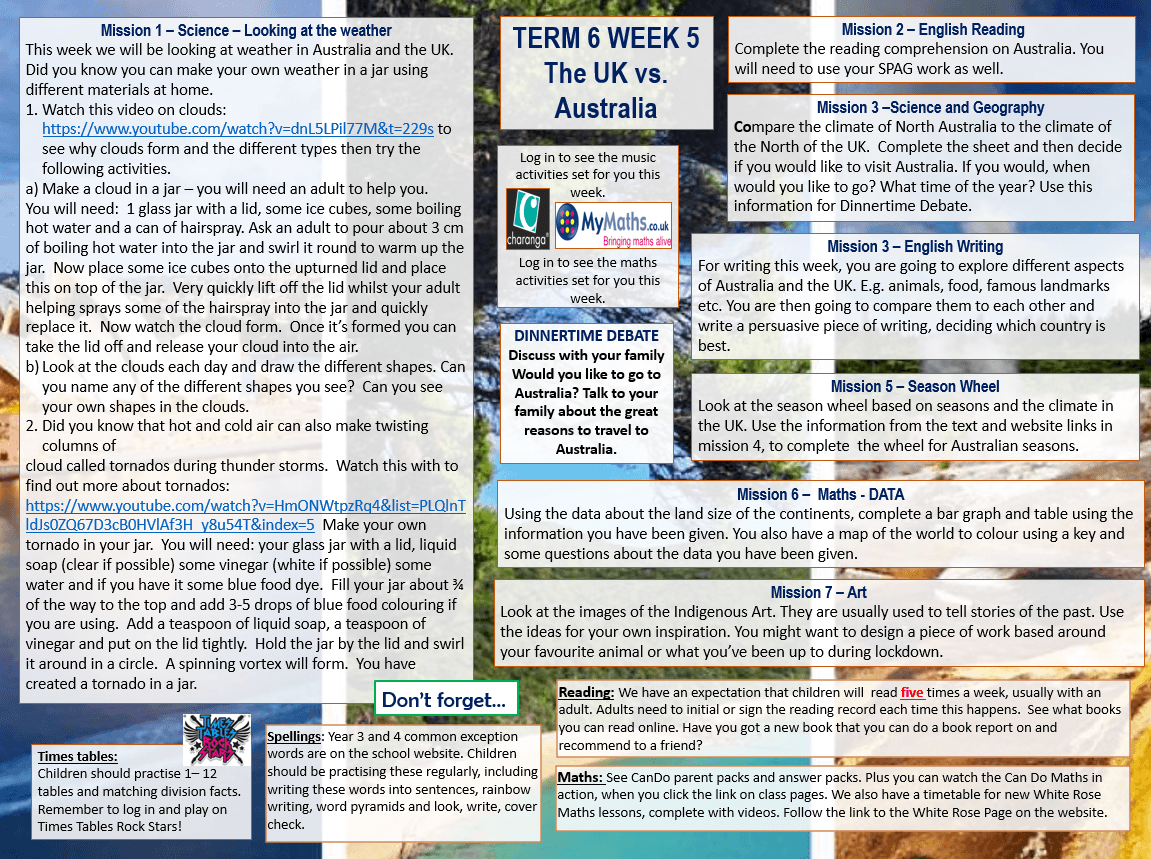 Resources you will need for week 5
Mission 2 Reading Comprehension
Mission 3 Compare the weather Australia vs The UK
Mission 4 Writing - Comparing The UK with Australia
Mission 6 - Maths comparing data and creating bar charts
1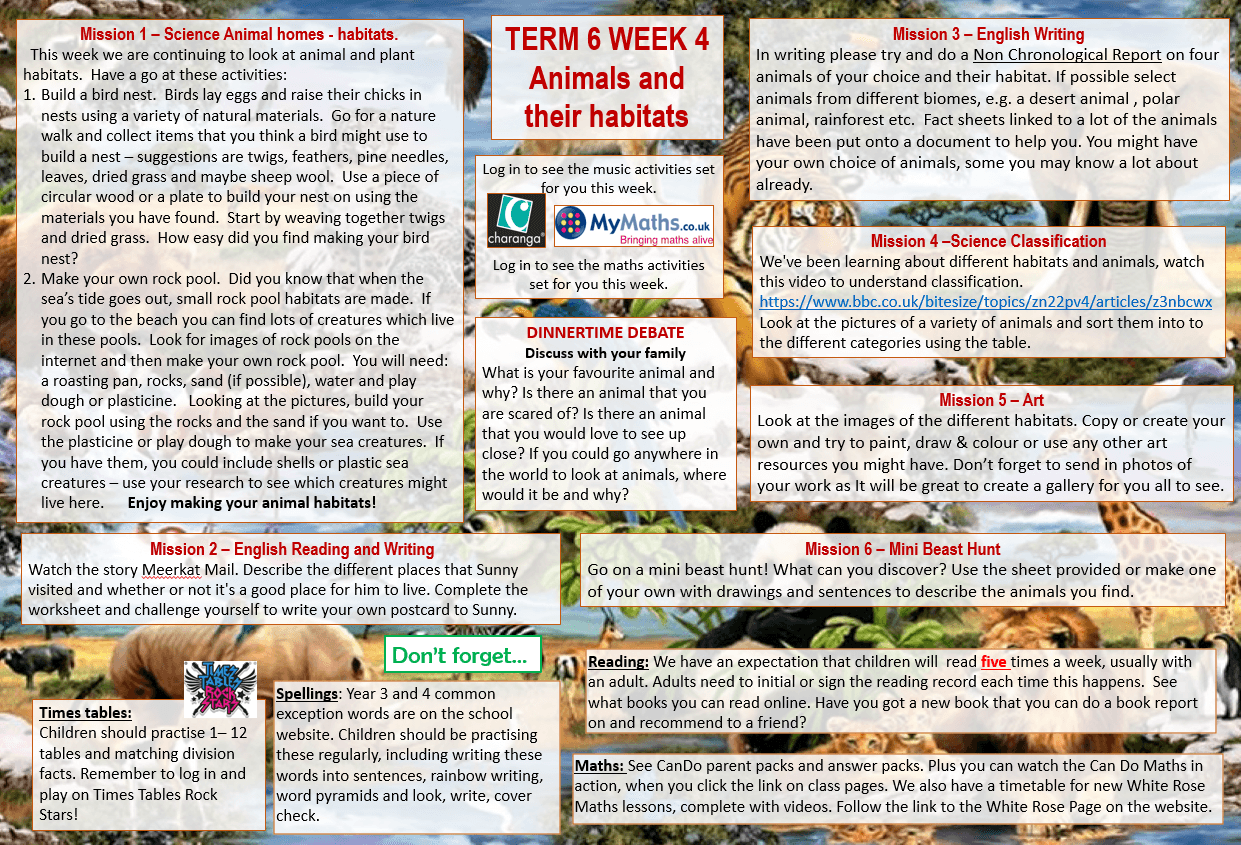 1
Mission 3 English Writing instructions
Mission 3 English Fact Files for animals
Mission 5 ART Images to use for inspriration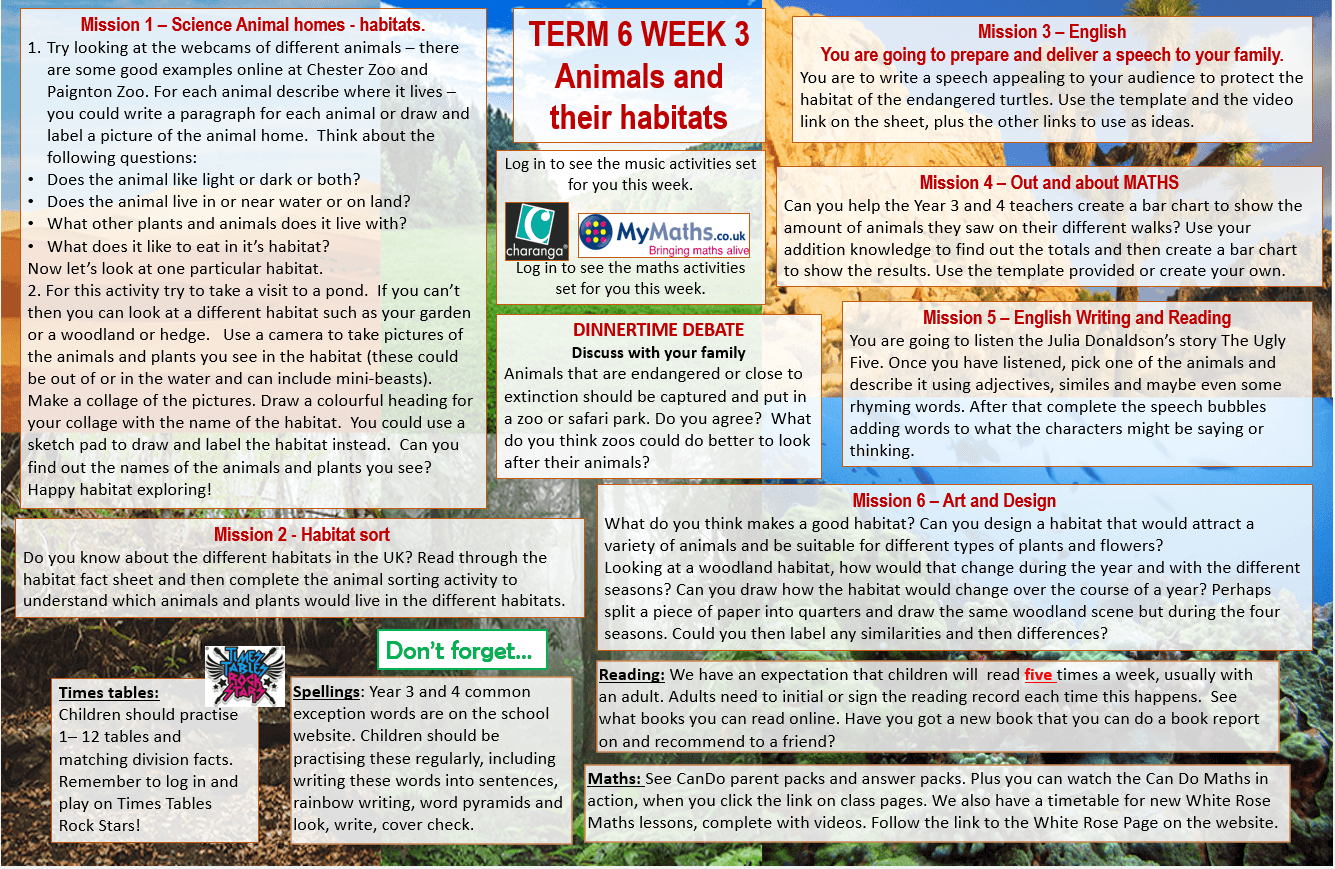 DOCUMENTS YOU WILL NEED FOR TERM 6 WEEK 3
Mission 3 Speech planning sheet
Links for ideas to help you with your speech mission 3
Mission 5 The Ugly Five by Julia Donaldson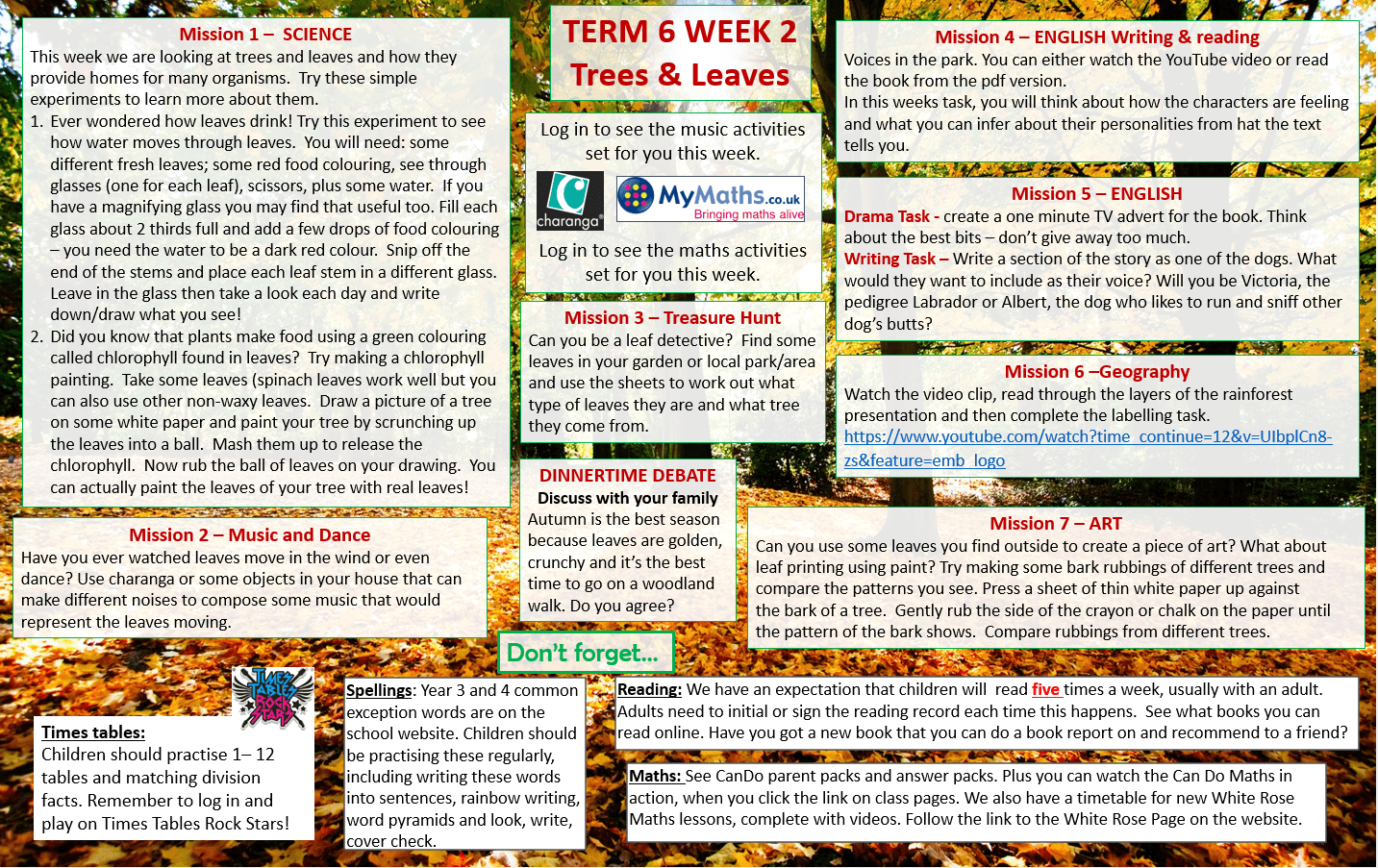 DOCUMENTS YOU WILL NEED FOR TERM 6 WEEK 2
Mission 4 Voices in the Park Activity
Mission 6 Layers of the Rainforest Presentation
Link for the geography rainforest video
https://www.youtube.com/watch?time_continue=8&v=UIbplCn8-zs&feature=emb_logo
Mission 6 Layers of the rainforest activity
Mission 6 Layers of the rainforest answers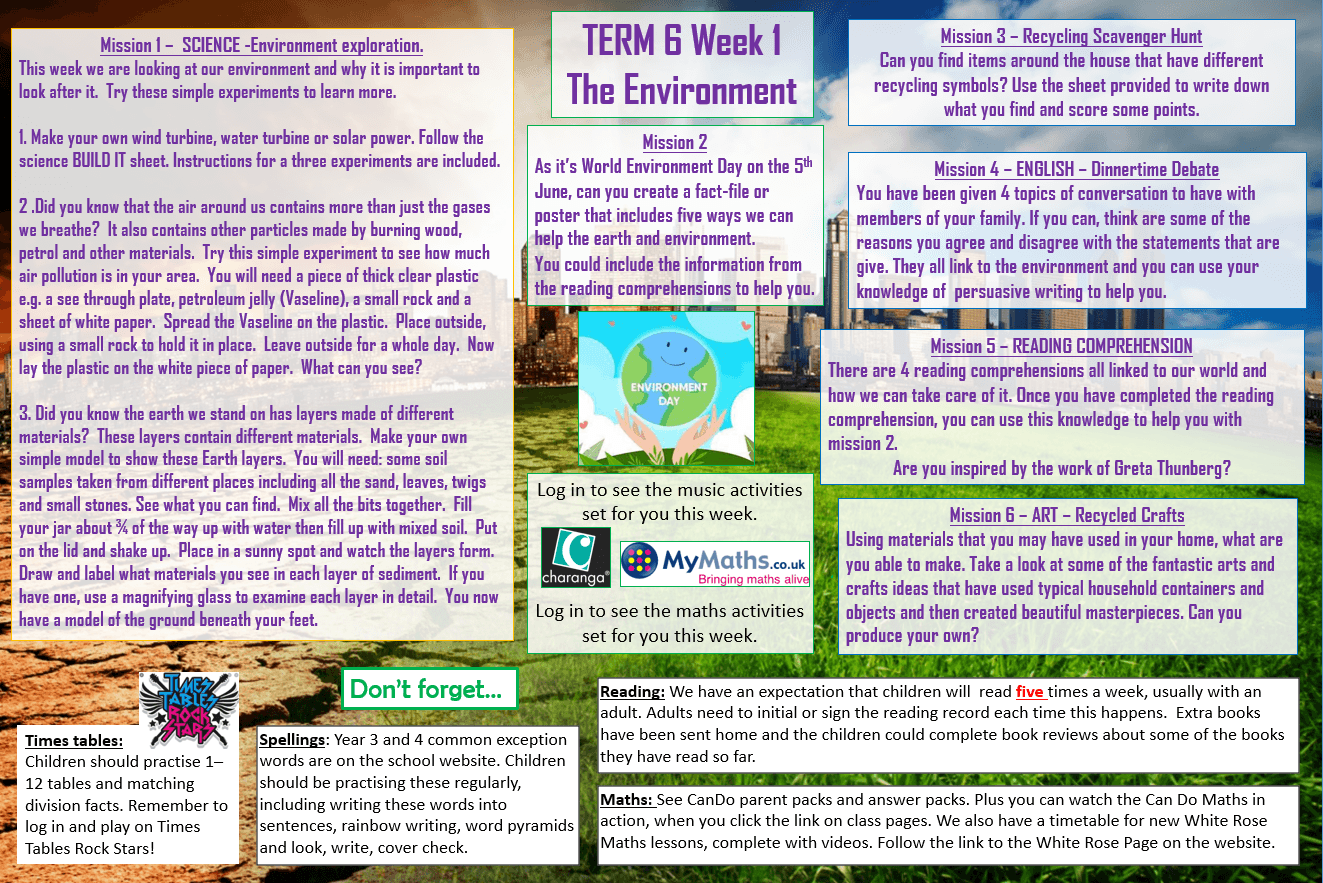 Documents need for Term 6 Week 1
Mission 1 BUILD IT - Science Experiments
Mission 3 Recycling scavenger hunt
Mission 4 Dinner Table Debate on the Environment
MISSION 5 - Reading Comprehensions for the week
READING Comprehension AIR POLLUTION Year 3
Reading Comprehension Greta Thunberg Year 3
Reading Comprehension End Plastic Pollution Year 3
Reading Comprehension All About Palm Oil Year 3
READING COMPREHENSION ANSWERS
Mission 6 ART Recycled Objects ideas
High Frequency word spellings to practice click here.
Below you will see a suggested timetable of what your daily routine could look like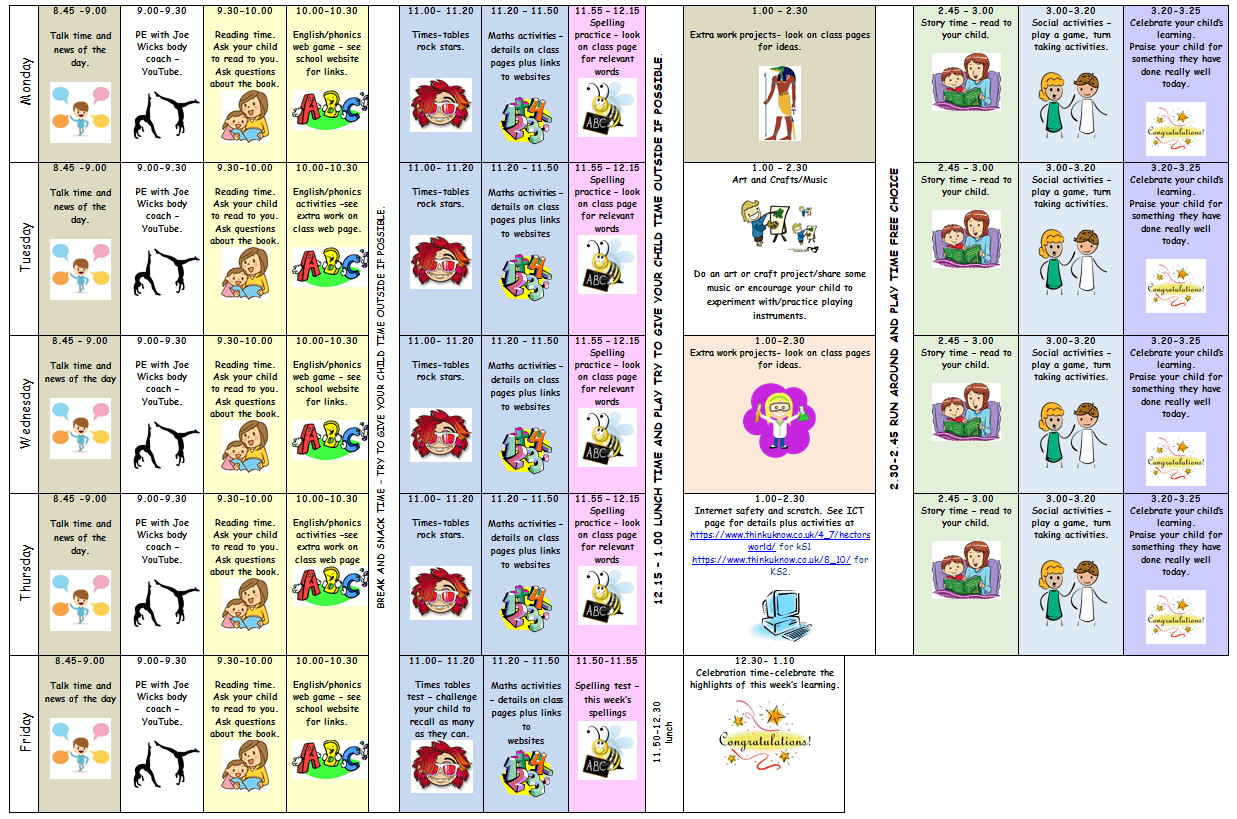 Class messages
Coats
Please ensure that your child always comes into school with a coat, especially with the weather getting colder.
Water bottles
Please provide your child with a water bottle every day. This is as well as a drink in their lunch box if they are having a packed lunch.
PE
We have PE 2 times during the school week - on Tuesday and Thursday. All children must have their PE kit in school every day to ensure that they can participate. We will continue to do PE outside once a week so please provide your child with appropriate clothing eg: tracksuit and trainers.
Girls need to have earrings covered and hair tied back. Please also ensure that children have their name in each part of their kit! If your child is unable to take part in PE due to illness or injury, please notify me in writing including the reason for non-participation.
Please have your child's name in all of their clothes and belongings!
Reading
Children are expected to read 5 times a week and record it in their reading records. Children will be able to change their books when they have completed them.
Spellings
We have reviewed the spelling system used currently and have decided to adapt it to suit the children's current learning needs. The children will still have spellings from the spelling pattern given out plus high frequency words taken from the national curriculum year 3/4 list.
Handwriting
Below is an example of the cursive script we use in school, If you would like to practice at home please feel free.
If there are any questions, please come and see me or make an appointment for a time after school.
Thank you for your continued support!