A warm welcome to Year 5
Your teacher for this year is Mrs Wiles.
Your Teaching Assistants are Mrs Gray and Miss Prince.
Your home learning sheet for this week can be found below.
READING COMPREHENSION!
There are comprehension texts and EBOOKS, complete with
resources, on the English page which can be found by clicking
on the curriculum link or click here for year 5.
Below you will see a suggested timetable of what your daily routine could look like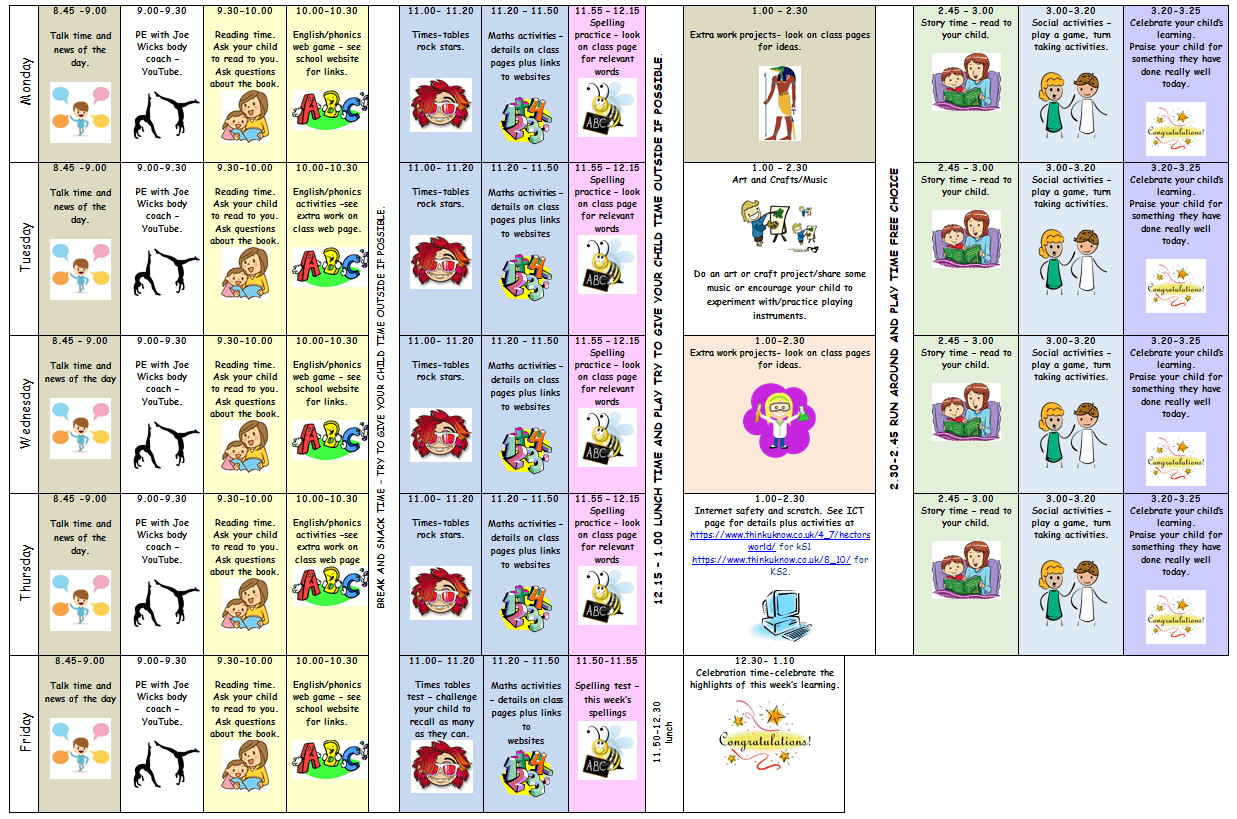 Class messages
Coats
Please ensure that your child always comes into school with a coat, especially with the weather getting colder.
Water bottles
Please provide your child with a water bottle every day. This is as well as a drink in their lunch box if they are having a packed lunch.
PE
We have PE 2 times during the school week - on Monday and Wednesday. All children must have their PE kit in school every day to ensure that they can participate. We will continue to do PE outside once a week so please provide your child with appropriate clothing eg: tracksuit and trainers.
Girls need to have earrings covered and hair tied back. Please also ensure that children have their name in each part of their kit! If your child is unable to take part in PE due to illness or injury, please notify me in writing including the reason for non-participation.
Please have your child's name in all of their clothes and belongings!
Reading
Children are expected to read 5 times a week and record it in their reading records. They are also given a reading target, once a week, which needs to be completed. Children will be able to change their books when they have completed them. They will be heard by a member of staff a minimum of once a week by either Miss Prince, Mrs Gray or myself.
Homework
Spellings are given out on Monday and tested on Monday ( In their yellow books). English is set on Friday and due in on the following Wednesday.
There are 2 sets of Maths homework. Arithmetic homework goes home on Monday and is due on Thursday. Additional maths homework will be set on Friday and due in on the following Wednesday.
Spellings
We have reviewed the spelling system used currently and have decided to adapt it to suit the children's current learning needs. The children will still have 15 spellings from the spelling pattern given out plus the 5 high frequency words taken from the national curriculum year 5/6 list.
Handwriting
Below is an example of the cursive script we use in school, If you would like to practice at home please feel free.