Miss Roberts FS2
Our Teaching Assistants are Mrs Beasley and Miss Rowe.
NB: Please Note. you do not have to print anything off to complete these tasks.
You can draw any pictures and complete tasks on paper.
_____________________________________________________________________________________________
____________________________________________________________________________________________________________________
Below you will see a suggested timetable of what your daily routine could look like.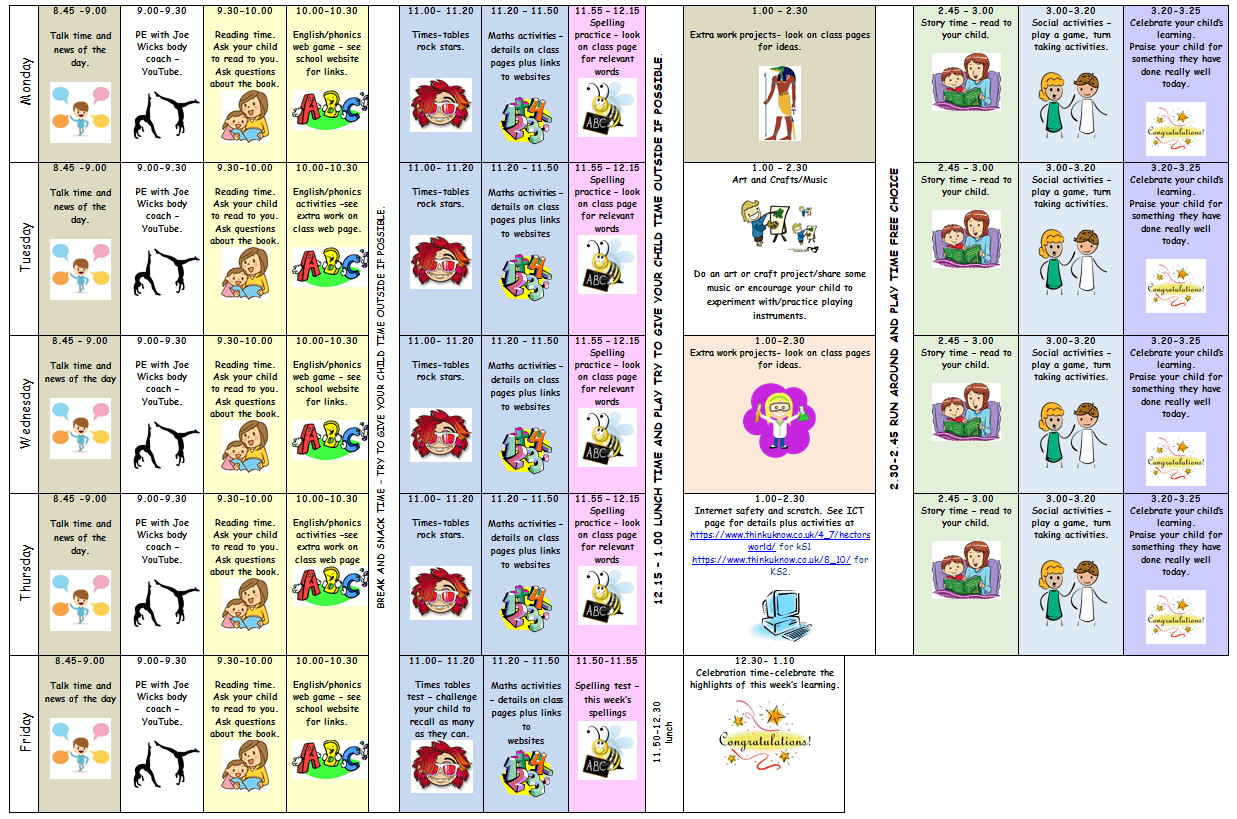 Class Messages
WATER BOTTLES
Please ensure that your child has a water bottle with them each day. Plain water please not flavoured water drinks as they make things sticky if spilt. If your child has a packed lunch they will need an additional drink with them. This one may be juice.
P.E
We have P.E. on a Monday and a Wednesday. All children need to have their P.E. kit in school every day to ensure that they can participate. P.E. kit consists of black shorts, white tee-shirt and black daps. Children with earrings need to have them covered or removed on P.E. days. Long hair needs to be tied back.
PLEASE NAME ALL ITEMS OF P.E.KIT AND ALL CLOTHING ITEMS.
READING
When your child is given a reading book to read at home they need to have it in their reading book bag everyday. We change reading books on a Monday,Wednesday and a Friday if the reading record book has been signed to say that they have read at home. If it is not signed we assume that the book has not been read.
RAINBOW READERS
Last year we introduced a new reading at home reward scheme incentive which has really excited and enthused the children.
When your child has read to you at home please make a note in their reading record book and add a comment if you wish. Each time there is a note in their reading record they will get a sticker to go on their personal card. When they have 10 stickers they will move on to the next colour on the class rainbow and receive a prize for reading and a 10 reads celebration in Celebration Assembly on Friday. For every 10 reads at home your child will move on to the next colour of the class rainbow until they reach the pot of gold.
SPEED SOUNDS
Your child will be bringing home a speed sound book, which contains the sounds we are learning over the year. The sounds are generally learnt in the order that they appear in the book. The page of the sound that the children have learnt will be dated. Please do not complete undated pages. Please practice the sound of that day and join in with the writing activity. Keep revising previous sounds learnt.
MINI MONSTER MATHS
Your child will be bringing home their own Mini Monster Maths Book quite soon. This system will have an explanation inside the front cover. Mini monster Maths books need to be in school everyday. We generally assess the children every two weeks and frequently practice with them. We hope that you can practice with your child about 3 times a week to help them progress.
If there any questions or queries, please do not hesitate to speak or contact me.
Thank you for your support