Welcome

to Year 4
Mrs Balan's class
Our Teaching Assistant is Mrs West
Welcome to Year 4, everyone! We are very excited about the year ahead and we look forward to seeing how we develop and grow this year as a class. If there are any questions, please use the class email: year4@greenmeadow-pri.swindon.sch.uk or make an appointment at the school office.
Here is our topic page for term 6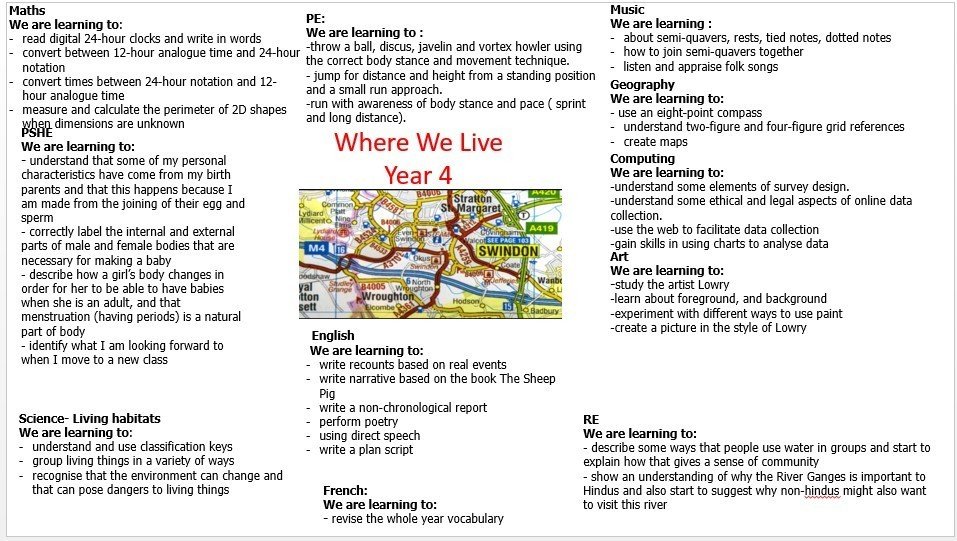 Class messages
Coats
Please ensure that your child always comes into school with a coat, especially with the weather getting colder.

Water bottles
Please provide your child with a water bottle (containing water, not juice or flavoured water) and a snack (which should be fruits or veg) every day. This is as well as a drink in their lunch box if they are having a packed lunch.

PE
We will have PE two times during the school week - on Tuesday and Thursday. All children must have their PE kit in school every day to ensure that they can participate. We will do PE outside as much as possible,so please provide your child with appropriate clothing eg: tracksuit and trainers.
Children need to have earrings covered by micropore tape and hair tied back. Please also ensure that children have their name in each part of their kit! If your child is unable to take part in PE due to illness or injury, please notify me in writing including the reason for non-participation.
Please have your child's name in all of their clothes and belongings!
Reading
Every child is given a reading book and a new reading record to read at home. They need to have it in their bag everyday, so we can hear them read in school as well. Please make sure that the reading record book has been signed to say that your child has read at home. If it is not signed, we will assume that the book has not been read. Children should read at home at least 3 times per week.

Homework
Spellings are given out on Monday and tested on the following Monday ( In their yellow books). English is set on Wednesday and due back in by the following Monday. Maths is set on Friday and due back in by the following Wednesday.

Spellings
The children will have 15 spellings from the spelling pattern given out plus the 5 high frequency words taken from the national curriculum year 3/4 list.
Click here for Y3/4 common exception words
Handwriting
These are the letter formations we use at Greenmeadow.
Thank you for your continued support!
Mrs Balan :)
Stone Age year 4 stories
The children have been working really hard to write their own stories. The stories are being written from the perspective of a stone age girl coming to Greenmeadow . Please have a look! I hope you will enjoy them as much as myself and Mrs West did!
The Cave
In the afternoon of a sunny day, I was running through the grass until I saw a hole. I looked into the hole and fell down, down, down.
When I woke up, I was on a very big field, but I couldn't figure out where I was. It was a very strange field that I couldn't recognise. It felt weird being in a place I completely didn't know. "Yum, what's that scent I smell," I said. It was a piece of food, but what type? I could see people in the distance.
As the people were in my sight, they walked up to me and said something, but I couldn't understand. It sounded like she said, "Who are you?" But because I thought they were trying to say something else to me, I said, "My name is Om," but I didn't think they'd understand me. I met a boy who was able to find out my name, but we couldn't understand each other.
We were able to have fun together. Soon enough, he started showing me around because we got to learn and understand each others' words. He told me, "Let's go get some food," as he smiled at me. We had a great time together, in fact it was the best time EVER! I felt warm inside whenever I was near him. He took me to his house and we watched the sunrise together. As we sat next to each other, I fell asleep.
After I fell asleep, I woke up in a tent. It was a very similar tent to the one I knew, so I walked out of it and found myself back at home. My friends told me they were worried sick when they saw me. I thought my new friend was with me, but no, he was back at the old school. Luckily, I was just in time for dinner, but I still missed him. We all sat around the great fire eating the deer they caught.
I always thought if I went to sleep I would see him again, so I always go to sleep and try to find him. I did feel a bit weird at first, but when I met the boy, everything changed. Since then, I've always believed in him, even if it was just a dream. I've been telling my family all about him. Every time I see a magnificent shooting star, I wish silently, "I wish I could see my friend just one more time." I made the same wish every time, but I don't think it ever came true. I always thought I was dreaming. Maybe, maybe not.
Om goes to school
One day, this crazy thing happened to me! It all started when I was casually walking around and exploring a new cave, when all of a sudden I was falling down so fast! Then, I fell asleep.
When I woke up, I was in a dark, gloomy cave. The floor was very damp and I felt really cold. My back was very sore because I landed on a big rock. Then, I saw light. I walked towards it and saw a building.
The building was huge! When I walked up to it, everyone stared at me. I was extremely confused because everyone looked so different. No one was wearing animal skin and I realised I was lost.
But then, the children came outside smiling and grabbed my hand, taking me to a place called a playground. All of them showed me some amazing things like, something called football. I still liked it even though I was bad at it.
After we played football together, I think they said, "Ooh a cave! Let's go in." When we got there, everything was blurry. I was really frightened for what I might see. The children began to scream and the floor began to shake. In the blink of an eye, I was home.
I tried to tell my parents what an exhausting, crazy day I'd had, but they said I had only left ten minutes ago. They didn't believe me, so it may have all been a dream. But even if it was a dream, I enjoyed it anyway because it was great.
The School Girl
On a beautiful sunny day, I was hopping along in a wet, creepy tunnel when suddenly I felt myself falling down, down and down. I woke up in a damp cave, I heard my echoing voice in the distance and I was terrified. I saw a light in the distance so I followed it.
As I was walking, I touched the wall of the cave and because it was pitch black, I only heard screaming from the end of the cave. I tasted fresh air and as the light got bigger, I saw a tall building.
There was a sign on the building, but I didn't understand it. I saw a group of people and a boy came up to me saying, "Hi, are you new here?" But I only heard blah, blah, blah. He then used signs to show me what he meant and I understood him so I did the same thing.
Suddenly, all the students started to laugh at me because I had clothes made of animal skin. I felt like I wanted to go home or hunt them down but the boy stood up for me. He said, "Hey, leave her alone bullies." Then to me, "Follow me into the school."
I went into the large school and the boy showed me around. He showed me the writing books, computers and the smelly kitchen.
After that, he took me to the playground, we played tag and hide and seek. The teacher even let me into her class, we had lunch together, he taught me how to write and then the fire alarm went off. I saw all the students line up and walk out of the classroom, so I did what they did.
I saw the whole school in the damp playground and on the wet field. Then I saw a cave in the distance, so I said goodbye to the boy and I went home. When I got home, I told my mum and dad about my amazing adventure.
Om and the Massive School
One day, I was walking nicely and early in the morning. I could hear the birds chirping and trees swooshing side to side. Suddenly, I fell down a rocky, echoing hole and landed in a cave.
The cave was damp, scary and cold, but I started to see light, so I followed it all the way through. At the end of the light I saw a boy. Not any old boy, he had circles on his eyes and sticks joined on to the circles. He was weird. He spoke gibberish, but I think he said I was talking gibberish too. Anyway, we walked and walked until we were somewhere different.
The boy and I sprinted to the end of the cave. I didn't know where I was, but the weird looking boy said he was in school, but he got lost. The boy showed me around the big school.
Firstly, we went to the library which was really cool. I got to hold a book and the book was yellow, cold and it had letters inside. I read the letters, but I had no clue what it meant.
The boy continued showing me around his wonderful, exciting school. Next, he showed me his teacher Mrs Balan ,who was very kind. She gave me a yummy, yellow banana to eat. After that, the boy and I sprinted to the lunch hall. A few minutes later, he got a sharp pencil, white paper and wrote his name on it. His name was Charlie.
We were now finished and I said goodbye to Charlie saying I would come back and visit soon. I went back through the cold, wet cave and saw my family. I told them about my amazing, fun, exciting day.
Part of our topic this term, the Stone Age, children drew some 'modern life cave paintings', outside, on the playground.
Stone Age poems written by our amazing children
In and out the cave
In the cave
A girl feels brave
Beside the girl
You see a pink pearl
The pearl shines in the light
And it keeps the girl from fright
Next in the cave
The girl shouts !SAVE!
Out the cave
There's a pond
With a piece of paper beside it saying DO NOT TOUCH!
Cave paintings glow
Cave paintings glow,
Cavemen go low,
When fish turn into bone,
As hard as stone,
There is a rock,
You got blocked,
There's a dinosaur,
That makes a loud ROAR!
There is a mighty mammoth
And you can't spear them when you try,
So cave paintings glow,
Cavemen go low,
When fish turn into bone,
As hard as stone,
There is a rock,
You got blocked,
This is the life of cavemen
Stone Age
On the green, wet hill,
Where the deer stay still,
The mammoth chase and kill,
The cavemen flock,
The Stone Age boy on a rock,
The speedy deer,
It does appear.
On the deep blue river floor,
The deer all go flash,
And the cavemen go splash,
There's a girl in a cave painting,
It's so good that I am fainting.
This is the life of the Stone Age!
Stone Age times
Remember when…
Everything was stone?
There is a wood
Where the boy stood.
Rocks fell on damp, cold caves
Then they fell all over the place!
When hunter gatherers hunted
And the Stone Age boy was stunted,
There was a mighty mammoth.
When men hunted there was a BASH!
And the flickering fire went FLASH!
And that's the Stone Age times…
A Day in the life of a Stone Age person
By the dirty rock,
Was a big old block,
Across the cave was a girl,
She had a huge curl,
The fire had a stone,
Around it was bone,
I looked at the dark floor,
And heard a great roar,
It was a dinosaur!
So it's dirty rock,
Big old block,
Cave girl,
Fire stone,
And a bone,
What an amazing day of a Stone Age person.